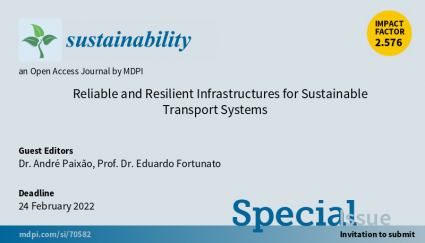 LNEC´s researcher are guest editors for a Special Issue of Scientific journal "Sustainability"
2021-06-07


LNEC's Researchers André Paixão and Eduardo Fortunato are guest editors for a Special Issue of Sustainability (ISSN 2071-1050; IF=2.576, Q1), an international scientific open-access journal.

Deadline for manuscript submissions of the Special Issue "Reliable and Resilient Infrastructures for Sustainable Transport Systems" is 24 February 2022.

This issue aims to promote and gather contributions related to the design, testing and monitoring of transport infrastructures with the aim of improving the efficiency of transport systems, namely in view of the sustainability paradigm and resilience to climate change.