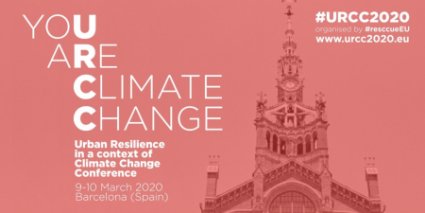 RESCCUE will organise the Urban Resilience in a context of Climate Change (URCC) conference.
2019-11-21




RESCCUE

will organise the Urban Resilience in a context of Climate Change (URCC) conference.

This event, under the slogan "

URCC: You are climate change"

, will take place in Sant Pau Art Nouveau Site, in Barcelona (Spain) on 9-10 March 2020 and aims to bring together different actors from academia, administrations, businesses and local communities to discuss the multiple aspects of urban resilience and climate change.

With a programme full of sessions, workshops, visits and discussions, this conference will be a space to exchange knowledge, to present excellence on Research & Innovation for urban resilience and climate change and to discuss key challenges and solutions in cities, with special focus on European urban areas.



The URCC conference organising committee is made up by representatives from UN-Habitat, Barcelona City Council, Aquatec-SUEZ Advanced Solutions and Cetaqua, Water Technology Centre, all RESCCUE partners. Besides, a Scientific Committee with more than 20 experts from different backgrounds has been defined to ensure the high quality of the conference.



URCC Conference themes:

1.

Hazard and risk assessment of key and critical urban services

2.

Climate risk management and resilience in urban areas

3.

From climate data to climate services

4.

Forecasting, monitoring, real-time control and decision support

5.

Adaptation strategies and nature-based solutions to improve resilience

6.

Institutions, governance and planning

7.

Financing for resilience and climate change adaptation

8.

Citizens engagement and social justice

9.

Innovation, communication and data-sharing

10.

Co-production of knowledge, solutions and services

Call for abstracts is open until November 29th.