Summary:
The Albanian project company SPHAERA sh.p.k requested the study in a physical model, at 1:80 scale, as well as the numerical model study of the No.3 and No. 4 spillways of the Fierza dam in Albania. It also included a detailed analysis of the effects of the operation of dischargers in the zone downstream of the dam.
The dam consists of 161,5 m high rockfill structure located in north Albania on the Drini River, whose main function is the production of hydroelectric power. About 500m downstream from the tailrace tunnel of the power house at dam toe, there is a road bridge that crosses the Drini River.
The spillway is formed by two concrete-lined tunnels located on the right bank of the river: tunnel No. 3 has a maximum capacity of 1780m3/s while tunnel No. 4 has a maximum capacity of 890m3/s. The end structures of each of the tunnels consist of ski jumps with an asymmetrical geometry in order to direct the water jets into the downstream impact zone. This zone is located between the structures of the ski jumps and a road bridge. Tests were conducted to hydraulically characterize the operation of the two tunnels by resorting to physical and numerical modeling. This study aimed at understanding the causes of operation limitations and problems, presenting recommendations for adequate solutions, as well as assessing solutions for protective works and adjustments that were necessary in the area downstream of the Fierza dam.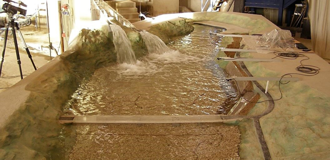 Participant Institutions and Teams:
LNEC:
HYADRAULICS AND ENVIRONMENT DEPARTMENT
José Falcão de Melo
Assistant Researcher, Water Resources and Hydraulic Structures Unit
Lourenço Sassetti Mendes
Doctoral Research Fellow, Water Resources and Hydraulic Structures Unit