This project will be an integral component of the new NSF Science and Technology Center for Coastal Margin Observation & Prediction (CMOP), a multi-year, multi-institution research center led by the American partner. The project also involves a suite of educational activities at OHSU and LNEC targeting young researchers at different stages of their careers. These students will benefit from the mentoring by an interdisciplinary team of experts in estuarine and coastal dynamics, thereby gaining early career introductions in a wide range of areas such as numerical modeling, ecosystem dynamics, parallel computing and grid-enabling of numerical models and the use of grid computing resources. Participation in workshops such as the annual ELCIRC/SELFE users' meeting will provide an additional opportunity for these students to exchange their experience with other colleagues in the related fields of research and to provide them with a network of contacts.
Goals
The goals of BGEM are manifold:
Technical
To validate a sophisticated ecological modeling system in controlled, well supported benchmark tests and to assess its performance against results from other models;
to improve the performance of an existing ecological modeling system by parallelizing its ecological module;
to demonstrate the usefulness of grid computing for the simulation of coastal and estuarine processes, using ecosystem dynamics as an example, and the Columbia river system as a testbed;
to take advantage of the new grid developed in the scope of the "Rede Nacional de Computação Avançada" to improve the capabilities of the partners in tackling complex coastal problems.
Scientific
to contribute towards improving our understanding of the dynamics of zooplankton.
Human
to educate several young researchers in: 1) the importance of benchmarking numerical models, 2) the use of grid technologies;
to create and strengthen partnerships between engineers, computer scientists, physicists and biologists with common interests in ecosystem dynamics in coastal regions.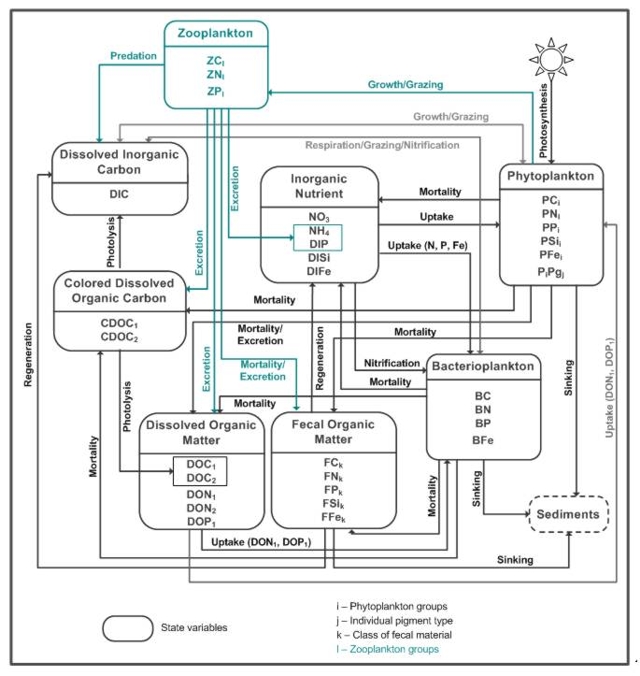 General overview of the ecological model ECOSELFE (Rodrigues, 2008)

Other projects
G-Cast: Aplicação da computação GRID num sistema de simulação e previsão da morfodinâmica em zonas costeiras
Sistema de Análise dos Efeitos de Factores Climáticos e de Acções Antropogénicas nos Ecossistemas Estuarinos. Aplicação à Ria de Aveiro
Hydrodynamics and transport in estuaries and lagoons