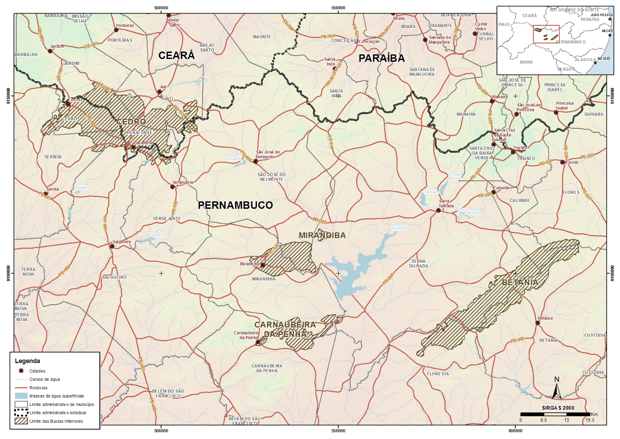 The four sedimentary basins location
These numerical models were part of a much comprehensive study, carried out by the consortium partner, COSTA, which included: geological and hydrogeological characterization; wells inventory, groundwater levels monitoring and water abstractions survey; socioeconomic and water needs diagnosis; definition of strategic areas for drilling future stratigraphic wells and piezometers; geophysical studies using gravimetry and vertical electrical surveys; pumping tests; definition of hydrodynamic parameters; hydrogeological balances; proposition and elaboration of management and investment plans for the studied aquifers.
LNEC was also responsible for estimating groundwater recharge by rainwater infiltration, hydrogeochemical, isotope and vulnerability to pollution analysis, and to develop and fill in a database with the most relevant hydrogeological information.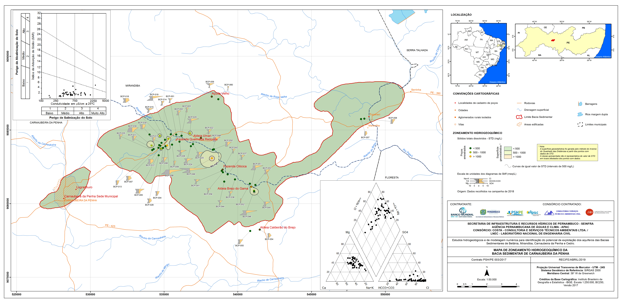 Hydrogeochemical map of the Carnaubeira da Penha sedimentary basin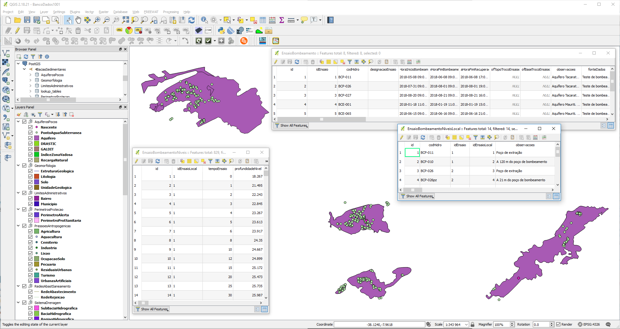 QGIS PostrGres/PostGIS database visualisation and filling in
The numerical models were conceptualized and built with the information obtained during the project development, using the platform FREEWAT (http://www.freewat.eu/), an open and free source code that integrates, also in an open source geographical information system QGIS, the finite difference numerical model code MODFLOW and the related groundwater flow and transport modelling software and surface water interaction programs.
Depending on the recharge / groundwater abstraction budget, a numerical model was developed for each sedimentary basin, in steady state for the Betânia and Carnaubeira da Penha basins, and, due to the negative balances, in transient state for the Mirandiba and Cedro basins. The models were calibrated using the groundwater levels monitored during the project; for transient models, previously measured levels were also used. The conceptual model was similar in all sedimentary basins: natural recharge is the only form of water input into the system, while natural discharge occurs to the intermittent watercourses existing in the basins, which were modelled with the drain boundary condition, and artificial discharge occur by well's abstraction of groundwater. The (hydro)geological formations geometry and knowledge acquired during the project led to the definition of models with two or three layers, all reversible type, being able to assume the condition of phreatic or confined aquifer.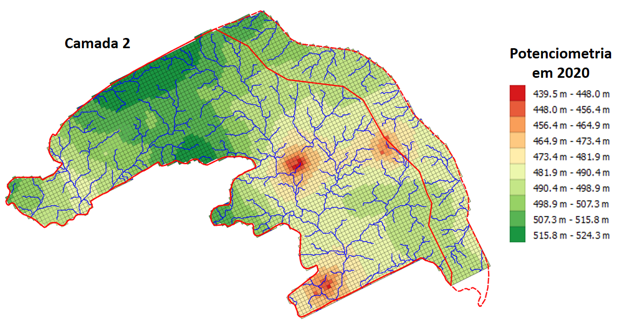 Cedro basin groundwater head obtained for the current situation (transient state run from 1980 to 2020)
Following numerical models calibration, the socio-economic development scenarios were modelled, all them leading to an increase of groundwater abstraction. The obtained results allowed conclusions to be drawn about the feasibility of these socio-economic development scenarios.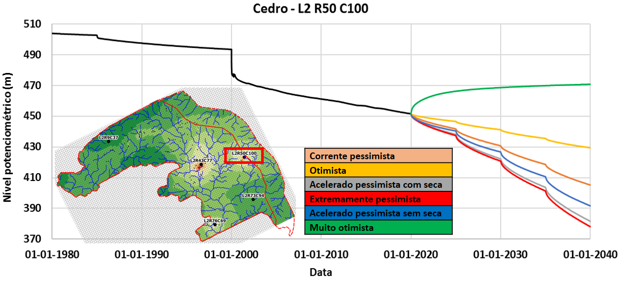 Groundwater levels' evolution in a specific model cell of the Cedro basin since 1980 until now and future evolution as a function of the exploitation scenarios
LNEC
HYDRAULICS AND ENVIRONMENT DEPARTAMENT
Manuel M. Oliveira
Teresa E. Leitão
Tiago A. N. Martins
Ana Cristina Mendes
Joana Costa Teixeira
Maria José Henriques
Ricardo S. Lourenço